Kendra Wilkinson Goes Baby Shopping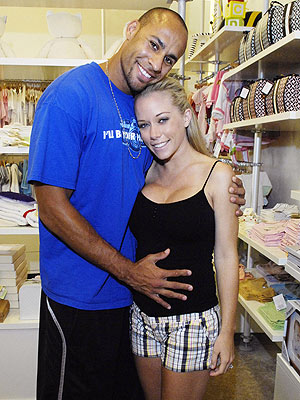 Amy Graves/WireImage
With their star-studded wedding behind them, former Girls Next Door star Kendra Wilkinson and husband Hank Baskett are now focusing their full efforts on preparing for their new baby.
The newlyweds attended a VIP reception at West Hollywood baby boutique Bel Bambini benefiting the Healthy Child Healthy World organization on Friday, where they browsed excitedly through everything from baby bottles to high-tech strollers.
"This is our first day of really getting prepared," Kendra told PEOPLE.
"We're like kids in a candy store here," Hank added. "Coming in here just made it so exciting. She has a glow, I have a glow."
Although Hank held up baby blue onesies to show Kendra, the couple kept mum on the sex of their baby — they plan to find out next week. "We can't wait to find out the gender so we can get more prepared," Kendra, 24, said.
Even if the event marked their first foray into baby shopping, Kendra and Hank, 26, say they have already thought long and hard about what kind of parents they want to be. "I'm definitely going to be very strict," explained Kendra. "I actually grew up around a lot of bad, so it's going to be easy for me to detect what's bad. I'm such a protector."
And just because they're preparing the nest doesn't mean that Kendra and Hank are done with their honeymoon stage.
"The best part is knowing I have this partner for life," Kendra said of married life. "I found the best man out there for me and my child. We're in it for the long run."
Source: PEOPLE
— Christina Yoon
Click below for the event's drink recipe — the "Bel Bambini Bellini" by Preggatini: Mixology for the Mom-to-Be's author Natalie Bovis-Nelsen.
2 oz. peach juice
1/2 oz. lemon juice
1/2 oz. ginger syrup
2 oz. Fre alcohol removed brut (or lemon soda)
white granulated sugar (garnish)
Rim a champagne flute with sugar
(rub with lemon, dip into small plate of sugar).
Shake juices and ginger syrup with ice.
Gently strain the sugar-rimmed glass.
Top with Fre brut or lemon soda.