Jillian Reynolds is Expecting a Boy!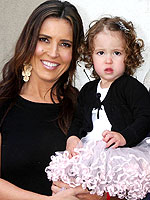 WENN
She may be on vacation from Good Day LA this week, but that didn't stop Jillian Barberie Reynolds from announcing her big news: Baby no. 2 is a boy!
A "beyond excited" Jillian, 42, took to her Twitter and Facebook accounts earlier today to share the results of her latest ultrasound. "I knew it!!!! It's a BOY!!!!!," the morning show host and weathercaster posted to her Facebook page. "Woman's intuition and more importantly he's healthy!! I'm elated!!! Now I can really start my vacation!!!! xoxo Jillian"
Baby boy on the way is due in late January and will join big sister Ruby Raven, 2. In addition to her regular duties on Good Day LA, FOX NFL Sunday and American Idol Extra, Jillian will be appearing alongside husband Grant Reynolds on House Husbands of Hollywood, premiering August 15th on Fox Reality.
Thanks to CBB reader Deanna.