Ben Stiller Says Kids Have a 'Healthy Attitude' Towards Fame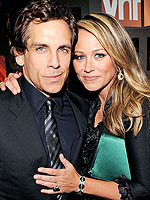 Kevin Mazur/WireImage
With bonafide Hollywood heavyweight Ben Stiller for a father, 7-year-old Ella Olivia Stiller and 4-year-old Quinlin Dempsey Stiller could easily be swept up in the trappings of fame. The 43-year-old Night At the Museum star and wife Christine Taylor say their children have both feet firmly planted on the ground, however — and they're grateful! "They just do their own thing," Ben noted to OK! at a recent screening of the dolphin documentary The Cove. "They're great."
"I think they really have a healthy attitude. They're very unimpressed with anything that has to do with show business, as kids that age should be."
Even playdates with Suri Cruise, 3, are mundane! "They play dolls and have snacks and take naps," Christine reports. Noting that "becoming a parent just changes your life," Ben gives credit to Ella and Quinlin for "energizing" his day.
"It definitely keeps you on your toes, and engaged in life. You've gotta be in shape. It keeps you in shape because you want to keep up with your kids."
Keeping tabs is also a must! Christine admits that when the couple are out of town, she still keeps her watch set to Los Angeles time so she can "know where they're at at every moment," prompting Ben to add, "Every moment is a joy."
Source: OK!
— Missy