Marissa Jaret Winokur on Cancer Battle: Everything Happens For a Reason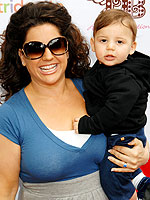 Roger Karnbad/Celebrity Photo
For Marissa Jaret Winokur, it's either go big or go home. After winning a Tony Award in 2003 for her performance in the Broadway musical Hairspray, she turned her attention to waltzing her way into the hearts of America on Dancing With the Stars, where she was eliminated after a nine-week stint on the show. Although she may not have won the prized disco ball trophy, Marissa took home a different grand prize only months later: her baby boy Zev Isaac!
The journey to motherhood was not an easy road for Marissa. After being diagnosed with cervical cancer during her time on Broadway, she was forced to let go of her dreams to become pregnant. Despite the rough patch in her life, however, Marissa refuses to dwell on the past; Instead, she often gives thanks for where she is today. "If it weren't for being sick when I was 28, I wouldn't have my husband [Judah Miller] or Zev, so I wouldn't change anything that's happened in my life," she says.
"Obviously when it happens you're like, 'Why me? Why is this happening?' But for me, Zev is the reason why."
With actress Sarah Jessica Parker recently welcoming twin daughters through the use of a surrogate, Marissa reveals she is "totally" able to relate to the negative press the Sex and the City star has received, having been through the situation herself. "I think some people believed, 'Oh well, Sarah didn't want to carry a baby and get fat,' or that she chose the easy way out," explain Marissa. According to the 36-year-old, the reality of the situation is far from the public's assumptions.
"I don't think people realize that when you have someone else carry your child, it's a last resort. I would have loved to carry my son. I would have loved to get fat. I wish I could have been pregnant…but it wasn't an option. I'm sure it was the same for Sarah."
Click below to read about the family's move from New York to Los Angeles, and about the possibility of a second child!

Things have settled in at a comfortable pace for Marissa, Judah and their baby boy, who turns one this week. With Marissa hosting Dance Your Ass Off, the threesome packed up and headed out to Los Angeles and, while "New Yorkers hate hearing this," she laughs "the transition was easy!" That said, pleased that the family has traded in the city streets for a spacious backyard, the devoted mama can't help but admit the Big Apple will always be home. Fortunately, when they all make the trek back to the East Coast for a visit, Marissa makes sure they visit all the landmarks!
"Sad to say, we hit every tourist sight possible. We came at Christmastime last year and did all that stuff. The Rockefeller tree lighting, the windows. But Zev was only four months old and it was freezing. I'm excited to come back in September so we can go to Central Park."
As for more children for the couple, Marissa has recently had a change of thought! While she would have ruled out the possibility of adding to the family only a few short months ago, since then, Marissa has envisioned making Zev a big brother. "That's definitely a long, long, long conversation with my husband," she says of becoming parents again. "We can't get pregnant by accident! It would have to be a very planned pregnancy."
If the couple do decide to take the plunge and have a second child, Marissa reveals that they may choose a different path other than a surrogate mother. While she insists she is "definitely not opposed to trying a surrogate again," the Broadway star has also considered adoption. "Babies are babies," she states.
"I think if you want to be a mom, there's always a way."
Source: Time Out Kids
— Anya