LL Cool J Tells Children to Carve Their Own Path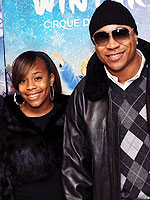 Bryan Bedder/Getty
Rapper, actor and father of four LL Cool J says that the best piece of advice he received as a child came from his grandmother. "If a task is once begun, never leave it 'til it's done. Be thou labor great or small, do it well or not at all," he recalls for PARADE.
When it comes to his own children, LL says there are no limits to — or expectations of — what they will go on to be. "They gotta do what they feel is right for them," the 41-year-old says. "I won't allow anyone to set the bar for them, you know."
"I tell my son you don't have to be LL Cool J. You don't have to be something that's like LL Cool J in order to be a success and don't allow the world to force you to believe or make you believe that that's what you have to be."
Instead, LL advises son Najee, 20, and daughters Italia, 18, Samaria, 13, and Nina Simone, 9, to simply "be who you want to be," along with one caveat! "Just be successful," he adds.
LL's four children are his with wife Simone. His latest project — NCIS: Los Angeles — debuts Sept. 22 at 9 p.m. on CBS.
Source: PARADE
— Missy