Got a Question for Angie Everhart?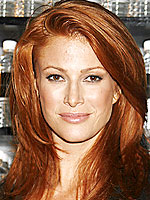 Amy Sussman/Getty
Expecting her first child — a boy — in the next few weeks, Angie Everhart is ending her pregnancy by showing off her bump!
The 39-year-old actress and model is the new face (and belly!) of Palmer's products, and we'll be speaking to her tomorrow as she shoots her advertising campaign for the company.
If you have a question you'd like Angie to answer about her pregnancy and motherhood, please post it in the comments!