Garcelle Beauvais-Nilon On Motherhood: 'It's All Good'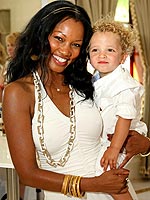 Kristian Dowling/Getty
As the youngest of eight children, Garcelle Beauvais-Nilon need look no further than her own late mother when she's in need of parenting advice. "She [knew] a thing or two," the 42-year-old actress told the Celebrity Baby Blog on Tuesday at the Buzz Girls Creatives Dinner in West Hollywood.
Among the biggest lessons taught? The importance of three square meals a day. "That was a big thing for her…that's really important," she said; Like so many moms, however, that effort often leaves Garcelle feeling "like a short-order cook" for 21-month-old twins Jax Joseph and Jaid Thomas. "I'm always at the stove," she notes.
As for her own advice to new moms, Garcelle says: "Try to laugh."
"You get tested so many times, especially with two … One wants to come up. One wants to go outside. One's on the top of the stairs. One's on the bottom of the stairs. And you're in between who do you watch out for? And you just gotta go, 'It's all good!' They're not gonna break. It's all good."
When asked to name her biggest baby must-have, Garcelle doesn't hesitate. "There are these little blue diaper bags that when you have a poopy diaper, you put in, they smell like baby powder inside," she revealed. "We use it at home, we use it on the go…[When] you're at a friend's house, you don't want to spoil her garbage, her kitchen."
Jax and Jaid are Garcelle's children with husband Mike Nilon; In addition, she is mom to 18-year-old Oliver from a previous marriage.
— Missy with reporting by Alexis Chiu