Dayna Devon Stays in the Moment With Daughter and Son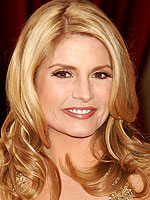 Gilbert Flores/Celebrity
If there is a secret to balancing work and family, Dayna Devon hasn't found it yet. Mom to Emmi Reese, 3 ½, and Cole Brent, 2 ½, the 39-year-old former Extra! host candidly tells the August/September issue of Fit Pregnancy magazine that "this has been tough for me because they are really sad when I leave for work or go out." She stays positive by surrounding herself "with people who understand," and by staying in the moment.
"When I am home with my children, I am really home with them. I don't answer my cell phone. I am not as involved in some things as I would like to be, but I do my best."
At the same time, Dayna's priorities are clear. Cole recently cut off the tip of his finger — "the worst moment of my life," Dayna says — and she was scheduled to work. "I didn't go, and I didn't care if they fired me," Dayna says. "I'm not afraid of the word 'can't' anymore. I had a hard time with that before." She goes on to suggest that expectant moms keep a sense of humor, and get plenty of exercise — something Dayna skimped on with her second pregnancy. "I still wish I had done better with my diet," she admits.
"But just remember it's all going to be OK. I remember thinking I wasn't bonding with my daughter. I even thought about quitting my job!"
Emmi Reese and Cole are Dayna's children with husband Dr. Brent Moelleken.
Source: Fit Pregnancy, August/September issue
— Missy