Cam'ron Regrets Putting Son on Album Cover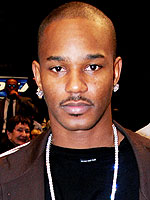 James Devaney/WireImage
When Cam'ron (real name Cameron Giles) featured his young son on the cover of his 2002 album Come Home With Me, he caught some serious heat from mom — and the 33-year-old rapper and actor says he now sees her point. "He had to change schools two or three times," Cam'ron explains to MTV. "I had to fall back from letting him be on the camera. I feel her for that. It's his safety first before anything. I feel her for that." Regardless of where his career takes him, Cam'ron says that he spends each and every weekend with his son.
"If I'm on the West Coast, he'll come fly and be with me. If I'm on the East Coast, I get my son every weekend. It doesn't matter where I'm at — show, no show, whatever. Break or no break. I have my son every summer and every weekend while he's in school. I love having my son in my life."
Noting that many men in the hip-hop community endured a "fatherless childhood," Cam'ron feels that "You always gotta take advantage when you can spend time with your kids." Describing his son as "a nerd," Cam'ron is quick to clarify "that's a good thing — [he's] a genius at school," consistently scoring "in the 90s and 100s" on his exams.
"I don't think he got a score lower than 94 ever. He's in third grade, so it's a beautiful thing."
The music bug hasn't bitten his son yet, who for now is much more a fan of dad's acting career. "I got pulled over for a traffic ticket…I was speeding or whatever," Cam'ron explains. "He was in the car. He was so nervous, he was like, 'Why are the cops messing with you? They don't know you're a movie star?' I was like, 'Nah, it's just a ticket, don't worry about it.'"
"That kinda shocked me, too, because he doesn't mention the music. He reads and watches the DVDs. Right now, I'mma keep it real. He's Scooby-Dooed out. I appreciate that. Scooby-Doo been rocking for about 40 years. He just started getting into video games. Right now, it's PlayStation, Guitar Hero and his Scooby-Doo DVDs."
Source: MTV
— Missy