Aiden Turner's Daughter-to-Be: A Future Karate Kid?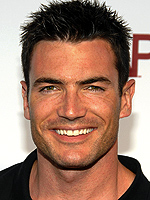 Jean-Paul
Aussenard/WireImage
Aiden Turner is counting down the days! To what, you may ask? The arrival of his first child with wife Megan. Megan is due to give birth to a little girl next month and the All My Children star couldn't be more excited or more in love! Thanks to a 3-D in-utero scan, Aiden knows that his little girl is "gorgeous, she's got long legs and I can't wait to meet her. I'm already falling in love."
As for Aiden's wife, she feels the same except for "this really massive alien who keeps rolling around in her belly." Aiden claims that his little girl is "like a little Karate Kid being trained by Mr. Miyaki … When I lie in bed at night with my arm on her belly, she's like, trying to push through the skin. It's crazy." All in all though, "Megan's doing really well. She's having a great pregnancy. She's really happy and enjoying it, not feeling bad at all."
The couple, who were married in April 2006, announced the pregnancy in March.
Source: Soap Opera Digest
— Angela