Corolle Dolls: A Baby For Every Stage
Most little girls are into baby dolls and Anya is no exception. We received a few Corolle baby dolls early on and they easily became Anya's favorites. In our house, Bebe Do ($70) is Queen and is it any surprise? With her chubby punim, eyelash lined eyes that close when she "sleeps", a soft velour outfit and yummy vanilla scent, this 14″ doll is perfect for the 2+ child.
What else makes Corolle dolls special? At first the selection may appear overwhelming because there are SO many Corolle dolls, but there is a doll for every age and stage your child goes through. A newborn's first Corolle might be the ultra-soft and floppy Doudou Puppet Grenadine ($25) because though a baby doesn't understand the concept of dolls, they recognize faces, and snuggly loveys are perfect for tiny hands to hug and hold. As your child get older, the large Rag Doll Grenadine ($35) is a good option as is the Babipouce line ($32) which has a vinyl head and soft body. For the 18+ month old child who is beginning to imitate her parents and wants to care for her own baby, a small, soft and lightweight doll that is easy to dress and undress is called for. The 12″ Calin line ($35) would be appropriate with their soft beanbag bodies (a few even have hair) — my favorite is the absolutely delicious Calin Naima — as would the Chou Twins ($45) and bathtub-friendly Tidoo line ($40). For 2+, choose from the 12″ "girl" Poupette dolls (as opposed to "baby" dolls), and slightly larger 14″ baby dolls like Bebe Do and Bebe Charmeur. If your child wants to brush the doll's hair, the 14″ Chouquette have long soft hair that you can put in pigtails. 14″ Bebe Tresor coos, babbles and giggles according to what her mommy (or daddy) does.
At 3+, your child can "graduate" to the 20″ Bebe Cheri who is the same size as a 3-month-old infant and can wear their clothes! There's also 14″ Emma and Paul who use the potty and three more dolls, 17″ Lila, Marie and Lia Interactive, who, like Bebe Tresor, respond to your child. And for the hair stylist in training, there's even a Styling Head with long blonde hair. For big girls who want a friend and not a baby, there's 14″ Miss Corolle who has long hair, 13″ Les Cheries who are very fashion-oriented and 16″ Les Trendies who combine colorful hair with soft bodies.
At every stage, there are adorable and trendy clothing and accessories.
If Bebe Do is Queen, then the 12″ Chou Twins ($45) are Prince and Princess. Or sometimes, Princess and Princess since, without their pink and blue striped outfits and matching pacifiers they're gender-neutral. These dolls are renamed more than any other in our house — once named Baby Dada and Baby Sally, they are currently Baby Siena (after her best friend in preschool) and Baby Sister (because she really wants one).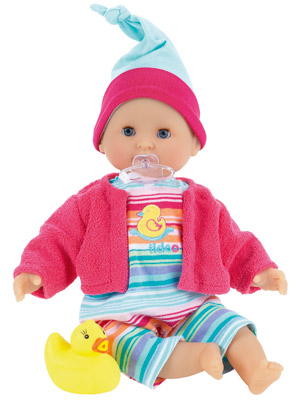 Tidoo Lutin Bright
The newest addition to Anya's baby stable is the 12″ Tidoo ($40). She had been begging to bring Bebe Do or the Chou Twins in the bathtub but that's only going to end in a moldy mess since they are not meant to be immersed. But Tidoo is specifically designed for bathtime as it's filled with polystyrene beads that dry quickly. Not only that, but Tidoo floats and sucks its thumb. I have a feeling this will be Anya's new favorite doll now that summer is here.
Choose from five versions: Tidoo Lutin Bright (above), Tidoo Strawberry, Tidoo Suce-Pouce in (pink) Pajamas, gender-neutral Tidoo Sorbet, and the African-American Tidoo Graceful (also in pink pajamas). All have blue eyes except Tidoo Graceful and Tidoo Sorbet.
— Danielle