Minnie Driver Calls Henry Her 'Greatest Love Affair'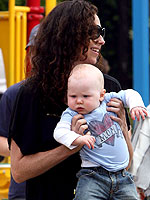 Mike/Fame
Nothing ventured, nothing gained! During a recent appearance on The View, Minnie Driver recalled her week-long labor with Henry Story, 10 months. "He had such a big head," the 39-year-old actress laughed. "It started, and then it stopped…he would begin to arrive, and then it would stop; It was completely insane." At the end of her "longest journey ever," however, the payoff was huge. "Yes, I would do it again," she said. "It's the greatest love affair of my life, with this baby."
Henry was a "beautiful, unplanned" surprise, Minnie revealed, and although she is no longer involved with his father she harbors no regrets.
"I'm a single mom, [but] his dad is amazing and in his life. I don't feel alone. Babies attract love…They attract people who love them."
Minnie again offered scant details on the identity of Henry's father, however, and defended on her decision. "My celebrity is not his celebrity and I don't think you should have the attention dumped on an unwilling bystander," she explained. "It's not his [career] to have the paparazzi and [other] people in his business; I chose to do this, not him." By staying mum, she said she hopes to protect both father and son.
Someone else who has become very important in Henry's young life is Minnie's dog Bubba, who took an instant liking to the newest member of the household.
"The dog loves him. The dog thinks it's his baby. They have a relationship that's based on Cheerios; Bubba very gently eats the Cheerios out of Henry's hand."
It appears as though Henry has fans everywhere he goes! Minnie went on to reveal that while shooting Betty Anne Waters in Detroit, even the Teamsters working on the set were smitten. "They loved Henry," she said. "They made him a local Teamsters jacket." She recalled,
"I'm still breastfeeding him, and it would be time to nurse and you'd hear them over the walkie-talkies [in male voice]: 'Yo, we got Minnie here, and the baby's gotta breastfeed.' You'd hear it crackling over the set. It was really funny."
Betty Anne Waters hits theaters later this year.
Source: The View