Julie Bowen On Riding Out the Terrible Twos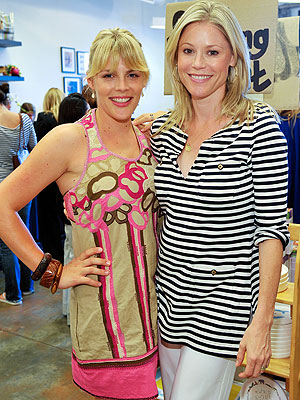 Charley Gallay/WireImage
Oliver McLanahan Phillips, 2, is quite the opportunist! So said his mom, actress Julie Bowen (pictured left with Busy Philipps), during a chat with Celebrity Baby Blog at the launch party for The Little Seed's all new Private Label, eco-friendly children's clothing line.
Oliver — whom Julie describes as "smart and conniving and willful" — is "not psyched" about his twin baby brothers John and Gus, 10 weeks, and he makes his feelings known at the worst possible time.
"He waits until I'm double breastfeeding," she shares, "and then he throws crap across the room! I can't stop him because what am I going to do? Dump the twins? Throw one to the ground? It's fine. This will all be over soon enough."
When asked what her biggest family accomplishment is of late, Julie jokingly replied that she was simply pleased that her marriage to husband Scott Phillips is still intact and the boys are all breathing.
"That's about as much as I can hope for," she kidded.
Having three children under two is not for the faint of heart, and Julie — who co-hosted Thursday's event — expressed gratitude that she is able to have full-time help. Even with a nanny, however, breastfeeding in tandem has seen her waking every four hours to feed. "Kids need the boobs," she notes, "and the kids need attention and love."
Having put "everything on hold" between the twins' birth in May and her return to work next month on the new show Modern Family, Julie admits that she's ready for a break!
"I can't wait to not be in my house and have people ask me if I want regular or decaf, and 'Can I bring you a breakfast burrito?' 'Bring it here. I'm not gonna even stand-up.'"
The 40-year-old actress shot the pilot in the latter stages of her pregnancy with John and Gus, and shortly thereafter learned that the show would air on ABC this fall — making for a very eventful delivery! "Unlike with my first son where I was on set at Boston Legal when I went into labor, [with] the twins I induced," she explains. "But I still had an exciting day because it was while I was literally pushing, the phone rang and that's when I found out my show got picked up — in labor, pushing." And that's not all! She adds,
"I [also] found out my house got sold. My house was for sale, so it was a good day."
'Doing it all' isn't something Julie is striving for, however. The best advice she ever received was from a doctor, who — shortly after Julie learned she was expecting twins — advised her to "give 75%" — and no more.
"I was like, 'Wow!' That actually was really helpful. It gave me permission to not be on all the time because you can kill yourself having three kids that are two and under, trying to do everything. I can't do it. I can't do it!"
Although she is "much lower on the totem pole" than she used to be, Julie adds, "you do still have to take care of yourself."
— Missy with reporting by Jessica Wedemeyer