Candace Parker: Return to Basketball is Good for Mom and Baby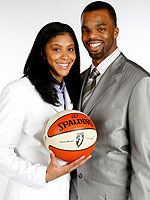 David Sherman/NBAE/Getty
Many moms can relate to pumping their breastmilk during the workday, whether it's in their car, their office or a bathroom stall. For WNBA star Candace Parker— whose office is the Staples Center, home of the LA Sparks — it means pumping in the locker room after warm-ups, and before the game. "This is something I think I can keep doing for Lailaa," Candace, 23, tells Newsday of her commitment to breastfeeding.
Although her return to action was remarkably quick — daughter Lailaa Nicole was born just 10 weeks ago — Candace feels that it's in the best interest for all involved.
"I think you can still be a great mom and do what you want to do. I think following my passion is good for me and good for my daughter."
Her return was made easier by regular workouts up until the very end of her pregnancy and supportive teammates, five of whom are moms themselves. It hasn't been easy, however. Lailaa is still frequently waking during the night, and as any mom knows, returning a body to pre-baby form is never easy. "My core is not as tight and my legs are coming back but are not under me 100 percent," she notes. Ever the optimist, though, Candace adds, "every day I am getting stronger."
Touted as the female Michael Jordan when she entered the WNBA in 2008 for her ability to attract younger basketball fans, Candace is now feeling support from a different generation of fans entirely — moms! "I feel that people are rooting for me," she says. "I think they want me to succeed."
"I never wanted to sacrifice my career for my family or family for my career. I think there are a lot of mothers out there who have the same dreams and I would encourage them to follow them."
Lailaa is Candace's daughter with husband Shelden Williams of the Minnesota Timberwolves.
Source: Newsday
— Missy