Karolína Kurková and Fiancé Reveal Baby is a Boy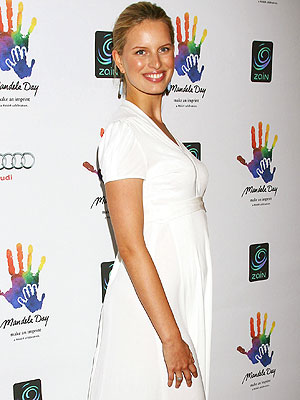 Dave Allocca/Startraks
It is shaping up to be quite a year for expectant mom Karolína Kurková.
"I'm definitely very excited," the 25-year-old model told OK! at the Nelson Mandela Foundation Gala at Grand Central in New York City on Wednesday.
"This is my first pregnancy, my first child, my first engagement. I'm just enjoying it more than anything."
Her enthusiasm was matched by fiancé Archie Drury, who revealed that their baby-on-the-way is a boy! "We're thrilled," he said. "We couldn't be happier." Karolína added,
"I always wanted to have kids and I love children, but being pregnant, the whole experience of having a baby inside of you that's growing. I start feeling the kicks now and feel the baby, it's just the most amazing thing. I just can't explain."
Baby boy is using those kicks to make known his preferences for a name!
"It's really funny," Karolína says. "I think he might have decided his name — the baby, not us…I don't want to say it, but he knows his name because the baby responds when I talk about that name."
That said, if she needs a third party to bounce ideas off of Karolína will have a captive audience in fellow Victoria's Secret models Heidi Klum, Gisele Bündchen and Adriana Lima. "It's like a baby moment," she notes before joking, "It's almost like the trend right now." The moms-to-be have all been in touch with one another to offer congratulations, and Karolína says that their bumps send "a nice message for the fashion industry."
"I think it's awesome…A nice thing, showing that we are real women and we are normal and healthy and that's why we can get pregnant…That we really take care of ourselves and our body. And we're growing up. We're not 17 or 18. We're becoming women and becoming moms."
It's a transition Archie says he can't wait to witness. "She's going to be amazing," he predicts. "I mean incredible. I get emotional when I think about her being a mom."
Source: OK!
Karolína's dress is by Issa, with jewelry by Kimberly McDonald.
— Missy