Caught Caring: Usher and Camp New Look
An entrepreneurial spirit led R&B singer Usher to branch out into the world of fragrance, and to later become part owner of the Cleveland Cavaliers. It is his philanthropic spirit, however, which has led the 30-year-old father of two to share all that he has learned with others.
On Monday, Usher welcomed 130 children to Camp New Look — a free two-week program in Atlanta where participants learn about the corporate side of sports and entertainment. "They say in life you can be a product of your experience or a product of your environment," he tells USA Today. "I choose to be a product of my experience."
Many children have dreams of making it big as an athlete or an artist but precious few will ever make that dream a reality. At Camp New Look, campers learn that there are other ways to achieve success. Last summer they worked with industry experts to develop a comprehensive marketing campaign for a mock fragrance  — tackling tasks like pitch meetings, contract negotiations and promotion strategies along the way. "There are so many other talents that kids have," Usher notes.
"These kids come here and they're like 'Oh, wow … we're going to learn about entertainment!' But they leave engaged in life and knowing that, 'I can have a future outside of music.' That's what makes me most proud."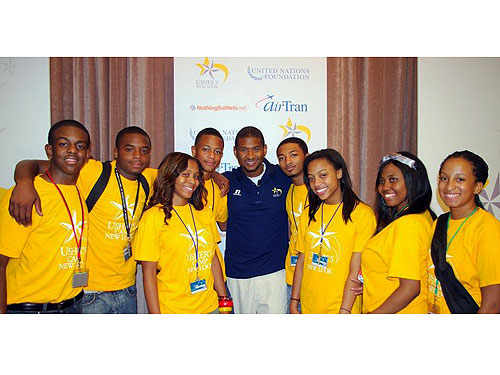 Thaddaeus McAdams
Click below to read about who most inspired Usher to give back.

Citing Michael Jackson as an inspiration, Usher adds that the late King of Pop "made philanthropy something that was kind of like a sense of heart work, and not hard work…All of the hard work went into who he was as a celebrity; the heart work made a difference." It's a difference Usher is determined to make himself. "I want to be motivating to those who have talent or who just need motivation," he says. "With my campers, I don't look at them as children. I look at them as young adults."
The stated mission of Camp New Look is to empower youth from under-served communities by giving them the skills necessary to enter careers in the sports and entertainment industry with the intent of increasing their economic status and decreasing at-risk behaviors. In addition to the two-week camp, the program launches participants on a career exploration path which includes internships, mentoring, and shadowing opportunities designed to career track them into key positions within the Sports and Entertainment industries. With regard to the latter, Usher notes,
"We're breaking a vicious cycle that can only be snapped with jobs. So, we're also working hard to make sure participants in New Look get the support they need to not only get the skills for a job in sports and entertainment, but get the chance to actually start their career."
Adding that he has "witnessed firsthand the transformation" of his campers' "views of themselves and their opportunities," Usher writes that "empowered youth are more likely to be active in their communities."
"We've taken steps to make their goals much more attainable. I know we have many challenges ahead, but our bottom line is about our hearts and our conscience — about doing and not just watching. It's about making something happen that's good, right and needed."
Currently in its fifth year, Camp New Look selects campers by committee based on nominations from partnering organizations. Key criteria for admission include children from families living at or below the poverty line, children who are eligible for a free or reduced lunch, children from single-parent households, children who exhibit a history of at-risk behavior and children who are currently or have recently been in foster care. In addition, campers must have experience in the core component area that they will apply for admission to — acting, dance, music, sports or video production.
Usher is dad to sons Usher Raymond V, 18-months, and Naviyd Ely Raymond, 7-months, with estranged wife Tameka Foster. For more information on Camp New Look, click here.
— Missy