Bryan Dattilo Offers Advice to Parents of Children With Autism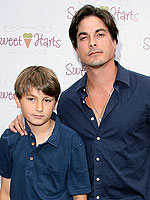 Jen Lowery/Startraks
Bryan Dattilo's world revolves around his son Gabriel, so when the 9 ½-year-old was diagnosed with moderate autism as a toddler, that world was turned upside down. Bryan and his ex-wife Jessica Denay — founder of the Hot Moms Club — "were told right off the bat that he wouldn't be able to do certain things, like have a real job, have a wife, be main-streamed," Bryan explains. "There was a question of whether he could stay in a normal school."
After the diagnosis, Bryan says he was left feeling angry "when the lady told us, and put all these labels on him and kind of limited him." He admits he also felt "responsible" that his son wouldn't "have the kind of life that he would enjoy."
Living in a world of the "unknown," Bryan set out to work closely with Gabe. "I would have to come up with games to break him of his repetitive behavior," he explains, "because a lot of autistic children have repetitive behavior, whether it's repeat[ing] something quite a bit or a physical gesture that they have to do to make themselves comfortable."
There were hard times, especially when Gabe was younger and he was unable to make eye contact or express himself. "You found yourself giving and giving and you weren't really getting much back compared to the normal way a child could share affection and show appreciation," Bryan notes. After his experiences, the 37-year-old actor "totally feel[s]" for parents dealing with an autism diagnosis, and offers them some advice:
"Realize that you never know what the future is going to hold, so the more you work with a child, it might not seem like you're getting a lot back at the time, but five or six years down the road, when your child is main-streamed and totally accepted as 'normal,' then that's the rewarding part. As long as you catch it early and don't give up, there is hope."
Click below to read about Bryan's thoughts on Gabe's future.
Gabe "turned the corner" at age five, Bryan shares. "Luckily, the early intervention helped and working with him helped and he's now main-streamed, and next year he's going into fourth grade and he won't need any special classes anymore," the Days of Our Lives star reveals. Bryan also feels it was beneficial that Gabe never learned of his diagnosis. "I don't want him to view himself as different," he explains. "I think part of the thing that's really working with him is the fact that he doesn't know and doesn't have that to fall back on as an excuse." He adds,
"It's such a hard thing to do because I don't want to bring it to his attention until he's ready to hear it."
Bryan has high hopes for Gabe's future, including love, marriage, children — and more! "I hope that he hits the game-winning home run for the Chicago Cubs against the New York Yankees in the World Series," Bryan says. Whether or not Gabe will add "big brother" to his list of accomplishments remains to be seen, however. "I'm so bad with the marriage thing," Bryan admits. "I'm still scared about that." He appears to have some time to make up his mind, however, for Gabe "doesn't really ask about" siblings.
"He's chill with being the only child. He thinks the dogs are kids. He says, 'Sal's my brother? Seamus is my brother.' But I definitely will have kids and he'll be a great older brother."
In the meantime, Bryan is enjoying the time that he spends with his son, whom he describes as a best friend. "I'm lucky," he says. "I get to see him a lot and as soon as I get off work today, he'll be there waiting for me."
"I get to pick him up at school, so for me that's the best. We love our time together."
Source: Soap Opera Digest, June 23rd issue
– Angela