Kendra Wilkinson Feels First Kicks, Predicts Baby is a Boy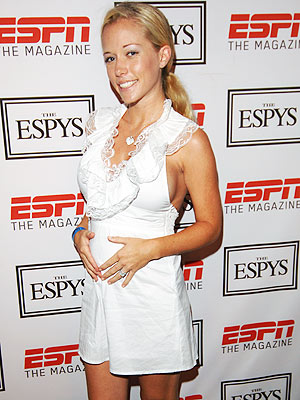 Craig Barritt/Photosmith
At just over four months pregnant, Kendra Wilkinson is celebrating a very big milestone — baby's first kick!
"It was so crazy," she tells Us Weekly. "I was just sitting there and then all of a sudden, 'Bam!' I was like, 'That wasn't gas!'"
Although the movements "felt weird," Kendra says she suspected that what she was feeling was real and a little investigative work proved her instincts were right.
"[Husband] Hank [Baskett] is in Phoenix, and I called him right away and was like, 'I just felt it kick for the first time,'" she recalls. "I just researched on the Internet, if you can feel it kick this early… and it said I can, so it's crazy!"
"I got really excited … I was like, 'Oh my God, something is in there! It's healthy!"
In two weeks, the couple — married in June — will learn the sex of their baby-on-the-way, and Kendra's intuition will again be put to the test. "I still think it's a boy," she says.
Happily settled into her second trimester, Kendra adds that she is "feeling great," looking forward to her Lamaze classes and has even been partaking in some traditional pregnancy cuisine. "I'm craving a pickle right now — and I hated pickles before," she shares.
Fans of her reality show Kendra shouldn't expect the December delivery to make its way onto the small screen, however. Kendra, 24, adds,
"That will be all private. I want to be able to spend my quality time with what's been growing inside of me for nine months!"
Source: Us Weekly
— Missy