Ioan Gruffudd Feels Fantastic About Fatherhood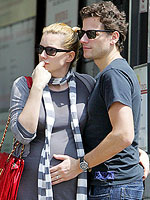 Splash News Online
Mr. Fantastic is feeling pretty fabulous about his father-to-be abilities.
"It's been one long summer because my wife is pregnant, expecting in September," Fantastic Four actor Ioan Gruffudd told PEOPLE at the Celeritas gallery show in West Hollywood, a benefit for Riders for Health.
"I have basically been the best husband in the world," he says – "or trying to be."
During Alice Evans' pregnancy the actor, 35, says his role has changed many times. "You go from being lover to husband, lackey, taxi driver. You just have to have so many caps on. Listen, it's a blessing that I am here, at home not working, being able to be there for her."
Still, "it's been tough. I'm sure we have no idea what we are heading into. But we both love each other so much and really hope that we will create an environment of love and happiness."
Ioan and Alice, 37, know the sex of the baby and have told family and friends but are keeping that detail secret from the public.
And as for a name? "We have a handful," he says. "But I think we are going to wait until the baby arrives."
Source: PEOPLE
— Nicholas White