Roger Federer Saving Himself for Diaper Duty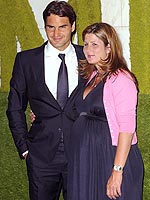 Bauer Griffin
Although he remained tight-lipped during the run up to his historic win at Wimbledon last week, after the match Roger Federer was much more forthcoming about his upcoming foray into fatherhood. The 27-year-old World No. 1  revealed that he has "not yet changed a nappy," joking, "I've been saving myself." Fortunately, he has friends in high places who are more than willing to lend their expertise!
"I have to practice. I have to go and ask for some advice from some people. Tiger Woods and I spoke about it a bit. He said it would be fine, but exciting, different. It's good and nice."
Now that the tournament is over Roger will return to his native Switzerland where wife Mirka Vavrinec Federer will deliver their first child — a boy — in early August. "It's now my turn to support her back home as much as I can," he notes. From the sound of things, their stay won't be long. "I can't just be at home for the next six months," he explained. "Mirka wouldn't let me. She wants to see me play and I want to be with her on the tour instead of just sitting at home. That is not life for me." Roger acknowledged, however, that life will likely never be the same.
"With fatherhood and the baby maybe I'll get up earlier for practice, do things a bit different and not be so crazy as a professional."
— Missy