Paz Vega Tries to Keep Her Pregnancies Peaceful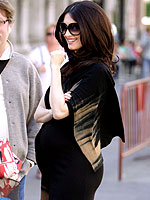 Bauer Griffin
Despite her Hollywood star status, Paz Vega places herself among all the other working mothers who face the daily struggles of balancing both their careers while still tending to their families. Already mom to 2-year-old Orson and due any minute with her second child — a girl — the actress tells People en Español she is prepared to take it all in stride.
"I suppose I'll continue working like all the other women who work and have children, but I will have to be much more organized and I will probably have to be more selective in what I choose to do."
In the final stretch of her pregnancy, Paz admits part of the reason the long nine months pass quickly for her may be due to the fact that she often forgets she is actually pregnant! "The truth is, I don't even realize it, only because I see myself in the mirror and say, 'Ash!'" she says. "I only notice it in my stomach and I love being pregnant, it's a part that, as a woman, personally, brings me satisfaction."
Advising women to think positively, which in turn will help ease any fears that accompany a pregnancy — including weight gain — the Spanglish actress is all about embracing the unique experience as a whole. "I try to be calm and to enjoy the pregnancy because it's something that happens to you two or three times in life and [they're] the most beautiful changes your body can give you," she states. "I like to see myself pregnant, I like to see the roundness pregnancy gives you, those curves are beautiful. You have to always feel like you're beautiful and that helps you have a healthy pregnancy."
To that end, when it comes to immediately bouncing back after baby, the 33-year-old is not succumbing to peer pressure. "[Hollywood] can be a little absurd because there's people who lose the weight in a year, others in a month, it all varies," she explains. That said, according to the expectant mama, the sheer fact of carrying a baby should not give women the green light to overindulge themselves.
"It's better to take care of yourself while you're pregnant — just because you're pregnant doesn't mean you can give into a thousand cravings a day, that can't be. On the contrary, you should take care of yourself more than ever during your pregnancy."
Orson and baby-on-the-way are Paz's children with husband Orson Salazar.
Source: People en Español
— Anya