Maggie Gyllenhaal: 'It's Hard to Be a Mom'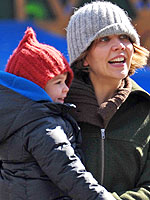 Splash News Online
Life with a toddler can be challenging — to say the least! — and it has given Maggie Gyllenhaal, mom to 2 ½-year-old Ramona, a whole new perspective on parents in general. "I've learned that you cannot judge the way another person is raising their kid," she tells PARADE. "Everybody is just doing the best they can."
"It's hard to be a mom. I can relate to the anxieties of having other people tell you what to do."
In the new film Away We Go, the 31-year-old actress portrays a mom who takes attachment parenting to the extreme. Some aspects of the role hit home for Maggie, but others were a stretch. "Shortly before my daughter was born, I had a fantasy that everything was going to be organic and cloth diapers," she recalls. "I think a lot of people are that way." Once Ramona arrived, Maggie says she quickly learned that "in the real world" her fantasies presented "complications." Her character — who nurses a 4-year-old and practices a family bed —  "is really far out when it comes to her ideas of parenting," Maggie notes. "I've never gone that far." Although the subject matter was at times foreign, portraying a mom on screen was not. "I don't know if I could have done the movie if I wasn't a mother," Maggie says.
"I had to comfort a crying 11-month-old baby. If I hadn't been able to pull it off, we would have wasted a lot of film time. So I thought, 'Thank God, I know what to do.' Then I'd go home to my own baby daughter. So I felt like I was just doing non-stop mothering."
Raising Ramona with husband Peter Sarsgaard in New York City meant finding a stroller that worked for the couple, and fortunately Maggie's line of work meant they had plenty of options to choose from. "We were sent all sorts of strollers by these stroller companies because that's one of the perks of being an actor," Maggie shares. "And so we kind of tried all of them and it was sort of like picking out your first car." Noting that "you can't function without a stroller in New York," Maggie says she's now a pro at mothering in the big city.
"We have one that is lightweight and easy to fold. I'm good with a stroller, like those moms who know how to click 'em and close 'em just before they jump on the subway."
The decision to return to work after Ramona's birth was one Maggie found "very difficult," but some projects were too good to pass up. The blockbuster The Dark Knight was easy to make because "there's a lot of just sitting around in your trailer," according to Maggie, and so mother and daughter had plenty of time together. Away We Go, a smaller budget film directed by Sam Mendes, was more challenging. "When you're doing a tiny indie film, you're working so hard you just don't have any time," Maggie explains. "You work a lot harder."
Away We Go is in theaters now.
Source: PARADE
— Missy