Adriana Lima: 'My Life is Complete At This Moment'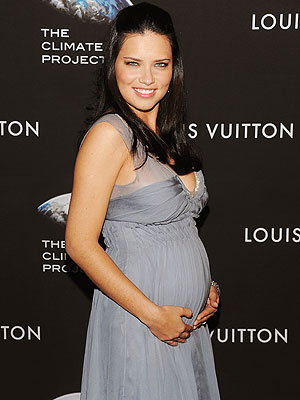 Dimitrios Kambouris/WireImage
In with the belly, out with the sweet tooth! Due with her first child — a delivery surprise — in mid-December, Victoria's Secret model Adriana Lima is no longer craving candy treats.
"It's funny because I used to love chocolate — I was such a chocolate lover until I got pregnant!" she laughs at a Louis Vuitton event celebrating the 40th anniversary of the Lunar Landing in New York City.
Noting that "it just doesn't appeal to me at all," Adriana admits she has managed to steer clear of the sweet stuff since she discovered she was expecting.
That said, the 28-year-old holds out hope that baby-on-the-way's big debut will coincide with the return of her chocolate obsession!
"I guess that's a good thing since it's chocolate and it's probably not good for the baby to eat too much sugar, but I hope I get my love of chocolate back afterwards because I really did enjoy it!"
Fortunately for Adriana, the disappearance of chocolate is a small price to pay for her newfound sense of fulfillment in life. "I feel like I'm glowing because I just — right now — I just have everything," she explains. "My life is complete at this moment."
According to the mama-to-be, her husband Marko Jaric shares in her excitement! Despite his model wife being "only 17 weeks" along, the proud papa-to-be, a guard for the Memphis Grizzlies, was elated to recently purchase baby's first stroller.
"He was telling me that he can't wait to push the stroller around and how he's going to be the proudest dad in the whole world."
Source: Us Weekly
— Anya