Molly Ringwald Welcomes Twins Adele and Roman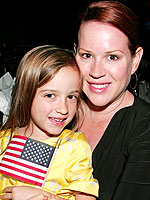 David Livingston/Getty
She's pretty in pink and blue! It's twins for 80s icon Molly Ringwald, who delivered her babies naturally on Friday, July 10th in Los Angeles. Adele Georgiana Ringwald Gianopoulous arrived first at 9:01 a.m., quickly followed by brother Roman Stylianos Ringwald Gianopoulous at 9:04 a.m.
Molly, 41, and husband Panio Gianopoulous announced the pregnancy in January, sharing that they'd be expecting boy/girl twins in early August. Adele and Roman join big sister Mathilda Ereni, 5 ½.
As for the age difference between the siblings, "I actually think it's a good thing considering we're having twins," Molly notes.
"It would be so much harder with a toddler than with an almost 6-year-old," she explains. "It's exciting, especially since it's a boy and girl…It's the best of both worlds."
Molly's show, The Secret Life of the American Teenager, airs Mondays at 8 p.m. on ABC Family.
Source: PEOPLE