Lansinoh Breastfeeding Supplies
As a mother of two sons (2 ½ years old and 4 months old) who strongly believes in the benefits of nursing, it didn't take long until I discovered the Lansinoh product line.
The Virginia-based company was founded 20 years ago by a breastfeeding mom and to this day focuses on nursing equipment.
Click below for a few favorites!
I quickly learned to love and trust it; their signature HPA Lanolin ($10/2-ounce tube) claims to be the purest wool grease in the world, it contains no preservatives, no additives, no water or perfume and doesn't need to be removed before breastfeeding. It healed and protected cracked nipples whenever my first couldn't get his food fast enough, and since my second son has comparably bad table manners, the Lanolin tube sits right next to the nursing pads.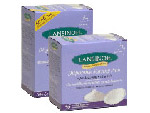 Finding fitting nursing pads, I discovered, is more difficult than choosing a nursing bra. Again it was the Disposable Nursing Pads ($8/60) which became my favorite. They are thin and soft enough not to look as if I'm a supporting actress wearing breast shields in a Star Wars movie, yet they are incredible absorbent (which you can see when removing but hardly feel) and stay in place even without using the adhesive tape. Some might appreciate the fact that they are individually wrapped for cleanliness, but this in my opinion needless amount of wrapping waste is the only thing that keeps me from calling them perfect.
Danielle adds: "They were my favorite disposable nursing pad but I agree that the waste is annoying and probably unnecessary for the most part since I was often putting them on at home." They also make Ultra Soft Nursing Pads ($4.75/36) which are softer and more padded for the last weeks of pregnancy and first weeks of nursing when your nipples may be more tender or sore and cotton Washable Nursing Pads ($18/4) for those who don't mind washing them (they are thicker and more visible under clothing though).
I'm too miserly to use the Clean & Condition Cloths ($3.50-5.50/70) for diaper change, but my first son has eczema prone skin, and these wipes which are alcohol-free and designed for the frequent use with breastfed newborns are the only ones I use whenever I quickly need to wipe his face.
— Iris