David Beckham Names His Son After Actor Pal Tom Cruise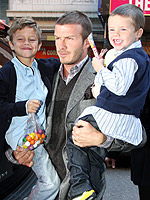 Mike Disciullo/Bauer Griffin
What's in a name? For the youngest Beckham boy, his answer can be found amongst the stars — literally! In an excerpt from The Beckham Experiment, soccer star and dad-of-three David Beckham opens up about his famous relationship with Tom Cruise. While there is no denying the two families share a close bond — the Cruises hosted a party for the Beckhams when they relocated to Los Angeles and they are often spotted out together — David reveals just how deep their friendship runs.
According to the 34-year-old, when it came to naming his third son with wife Victoria, the couple looked no further than the actor himself.
"I must admit, when [Victoria and I] met Tom, I remember turning around to Victoria and saying, 'Cruise is a great name, but we could spell it different."
When they welcomed their baby boy in 2005, they did just that! Altering the spelling to reflect their time spent in the Spain, David and Victoria settled on Cruz David for their now 4-year-old son.
The couple are also parents to Brooklyn Joseph, 10 ½, and Romeo James, 6 ½.
Source: NY Daily News
— Anya