Tim Meadows On Separating Fact From Fiction for Sons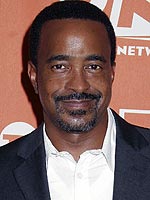 Adriana M. Barraza/WENN
For Saturday Night Live alum Tim Meadows, some storylines hit closer to home than others. Currently starring in TBS' The Bill Engvall Show, where he plays a divorcé, Tim says that he limits sons Isaiah and Julian's exposure to the sitcom as he is recently divorced from their mom Michelle Taylor.
"If it's an episode that does not deal with me being divorced, then I'll watch it with my kids," he elaborates. "I explain it to them cause they're six and eight years old, so they understand that it's just pretend and everything."
"But for me, it's too personal to have to explain, 'When that guy is talking about his ex-wife, I'm not talking about your mommy.' I try to keep that aspect of it separated."
The third season of The Bill Engvall Show premieres July 18th.
Source: PARADE
— Missy