Usher: My Boys Bring Me Balance in Life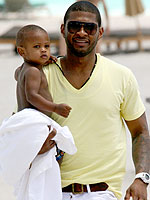 Kadena Pix/Bauer-Griffin
A tropical vacation? A trip to the spa? As many Hollywood stars escape the daily demands that surround their careers with impromptu getaways or a day of pampering, Usher finds his sense of balance in the eyes of two little boys — Usher 'Cinco' Raymond V, 19 months, and Naviyd Ely, 7 months. "I find balance in two places, when I'm working out and when I'm with my kids," he tells OK!, adding that the "noise of my children" is music to the singer's ears.
"When I hear them my mind is not focused on all of the things that are holding me down. When I'm with my boys it's all about them and I just put it all together somehow."
That said, despite his celebrity status, a good time spent with his two boys doesn't necessarily mean pulling out the checkbook! "We spend most of our time in Atlanta in the car traveling wherever we're going to go," Usher says. "That's when our fun moments are, either at home or in the car."
With a dad whose voice has won him five Grammy awards, a career in music wouldn't be a far stretch for Cinco and Naviyd. Hopeful his sons will become singers, 30-year-old Usher admits while his youngest is "not quite at the age where he can talk, sing, and catch rhythm," little Cinco may soon be jumping in on the action — quite literally! "He likes to jump, that's his new thing," the proud papa laughs. His other new interest? Cell phones.
"[He] is a little destructive. He broke an assistant's phone yesterday. He was playing with it and he dropped it. Kids don't understand how valuable cell phones are. You lose your phone, it's like you lost everything!"
Cinco and Naviyd are Usher's children with estranged wife Tameka Foster.
— Anya