Laila Ali: Curtis is My Constant Companion Through It All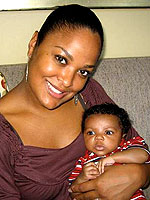 Courtesy Laila Ali
When Laila Ali found herself belly deep in her pregnancy, celebrating the joys and working through the tough moments, she relied on her main squeeze through it all: her husband Curtis Conway. "I think the person that supported me the most, and was closest to me on a regular basis throughout my pregnancy, was my husband," she tells Us Weekly. Not only her partner, but "my best friend," the 31-year-old gushes that Curtis gladly "stepped up to the plate" when needed the most. However, according to Laila, she wasn't expecting any less from her husband of almost two years!
"He's the one that's there morning to night, knows what I'm dealing with, what I'm going through, what my most private thoughts are … I knew he would — that's why I married him!"
Now the proud mama of 10-month-old Curtis Muhammad, Laila is determined to maintain her fitness regimen, even with baby boy in tow! "What I used to do when I was pregnant and also after I had my son — he was only weeks old — I would go for walks," she recalls. "You can do a whole lot with your child right at your side." In fact, the threesome have made exercising a family affair, as the routine not only allows Laila to encourage a healthy style of living for her child, but also creates the perfect bonding experience for all.
"I think it's important for people to spend time together as a family, for parents to spend time with their kids, to be a part of their lives and exercising. Getting out and doing something as a family is not only free, but it's a great way to stay on top of what's going on in each other's lives, connect as a family … and just build relationships."
Thrilled to finally be a mother, Laila admits her greatest joy comes bright and early each morning. "When I see those bright eyes, it just brings so much joy to my heart," she says.
Source: Us Weekly
— Anya