Fatherhood Turned Thad Luckinbill Into 'A Big Ball of Mush'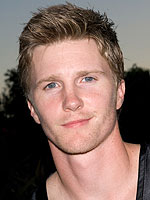 Michael Bezjian/WireImage
Thad Luckinbill swore that he would never be the type of dad that tursn into a softie once baby arrives — but he was wrong!  The minute Thaddeus Rowe Luckinbill Jr. was born 20 months ago, The Young and the Restless star "became a big ball of mush." The actor explains that "you always hear how much you're going to love your children, but to actually experience it is awesome … there's just this amazing connection there."  Rowe, as he is called, is now "at that age where he's becoming a little boy instead of a baby" and keeping his parents — mom is actress Amelia Heinle — on their toes.
"Now Rowe is climbing on everything, running and jumping. You have to really chase him now, as opposed to him not being able to go very far. He's fast."
The 34-year-old old has not only had the challenge of figuring out his role in parenting Rowe, but also with 13-year-old August Manning, Amelia's son with ex-husband, actor Michael Weatherly. "Amelia and August were doing just fine before I came along," notes Thad. As he started spending more time with them, "I just figured out what my role with him would be." He is the first to admit that the role is "never as the dad because August has one, but being the stepdad is still interesting and important."
"With kids, you just can't be their best friend when they're growing up. They have to understand what authority and boundaries are. But August and I still have a lot of fun together, though sometimes I have to take a parental role. Amelia does a great job with him, so I just try to adapt to her philosophy."
Are more children on the way? Although Thad says, "I think we're doing fine with what we got right now. Kids are a lot of work," rumor has it that the couple are currently expecting a baby girl!
Thad and Amelia met on the set of The Young of the Restless and were married in March 2007.
Source: Soap Opera Digest
— Angela