The Name Game: The Beat Goes On
Although we don't yet know whether Otis Redding proved to be the inspiration behind Tobey and Jennifer Meyer Maguire's decision to name their 9-week-old son Otis, for several CBB readers the Dock of the Bay crooner immediately springs to mind. Little Otis Tobias Maguire is just the latest in a long line of celebrity babies with a name tied (coincidentally or not!) to music, however, according to nameberry.com co-founder Pamela Redmond Satran. What's more, those musicians often belong to the same genre — jazz!
Ben Stiller and Mark Wahlberg both chose the ever-popular Ella (Fitzgerald), Ewan McGregor opted for Esther (Phillips), Joan Cusack, Larenz Tate, Susan Sarandon and Tim Robbins all fell in love with Miles (Davis), Natascha McElhone gave son Rex the middle name Coltrane after John Coltrane and Ethan Suplee and John McGinley settled on Billie (Holiday). Other celebs cut right to the chase; Steffi Graf and Andre Agassi named their daughter Jaz, while the late Joe Strummer of The Clash selected Jazz Domino for his daughter.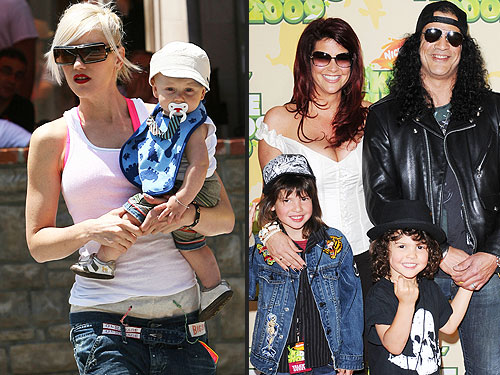 Rachpoot/INF; Axelle/Bauer-Griffin
A saxophone and hi-hat aren't for everyone, however. Some celebrities are much more in tune with the sounds of an electric guitar, so it should come as no surprise that Slash Hudson of Guns 'N Roses has a son named Cash (as in Johnny), Zakk Wylde of Black Label Society has a son named Jimi (as in Hendrix) and Liam Gallagher has a son named Lennon (as in John). Others have chosen to pay tribute to a love of reggae music, like Gwen Stefani and Gavin Rossdale with son Zuma Nesta Rock, whose middle name is a nod to the legendary Bob Marley. Some musicians draw from unlikely sources in naming their children, however; High energy Red Hot Chili Peppers frontman Anthony Kiedis was inspired by the relatively tame 1950s group The Everly Brothers in naming son Everly Bear, while hard rock guitarist Eddie Van Halen was wild about Wolfgang for his son, named after Wolfgang Amadeus Mozart.
Some musician-inspired names have been climbing the popularity charts at record speed, like Aaliyah, Marley, Presley, Rihanna and Miley — the latter of which Pamela deems "one of the fastest rising this year." There are other ways to pay tribute to a love of music without singling out a specific artist, however; Pamela notes that names like Allegra, Lyric and Sonata are all viable options.
In addition to her work with nameberry.com, Pamela has co-authored ten baby-naming books with Linda Rosenkrantz. Their newest title, Beyond Ava & Aiden, is available now.
— Missy
Would you pay tribute to a musician or musical genre in naming your child?