Pregnancy Moves Fast for Heidi Klum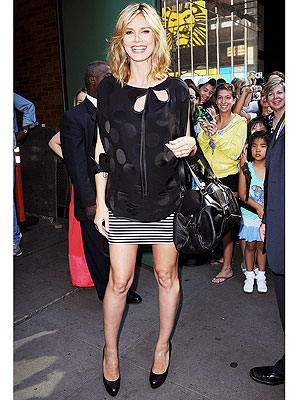 Humberto Carreno/Startraks
You won't catch Heidi Klum complaining about the perils of pregnancy.
During a Wednesday visit to the set of Good Morning America (pictured left), the 36-year-old supermodel said that, for her, life as an expectant mom zooms by.
"It always felt fast," she explained. "Before you think, 'Oh, nine months…It seems like forever.' But, you know, the first four months you don't really feel it if you don't have morning sickness and all these things."
"I've been very fortunate, I never really had any of these things. All of a sudden, the stomach comes and [then] you have to think about what you're going to wear and … [that's when] it kind of starts."
For Heidi, currently expecting her fourth child with husband Seal, nothing accentuates a burgeoning bump as nicely as long, toned legs — and hers are often on full display!
"I always shorten everything," she laughs. "But I do that when I'm not pregnant, too. Most designers get a little bit annoyed when they get their samples back and they're much shorter."
Asked by host Diane Sawyer who is in charge of the nightly lullaby, Heidi revealed that it is a team effort.
"We all do. My mom does in German, I do in German and English, my husband does. He loves Puff the Magic Dragon and all different beautiful songs."
From the sound of things, Heidi turns in for the night not long after the kids! She missed the Saturday Night Live skit which parodied her hit show Project Runway as a result.
"I'm not a huge television person, because with three children…I love it and I appreciate television, I am part of television, but it's hard with three children," she explains. "I'm in bed at 9:30 at night and I'm up at 6 o'clock in the morning. I miss most of it."
Heidi's baby-on-the-way, a girl, is due in October. She will join big siblings Leni, 5, Henry, 3 ½, and Johan, 2 ½, at home.
Source: Good Morning America
— Missy