Molly Ringwald: Motherhood is in the Bones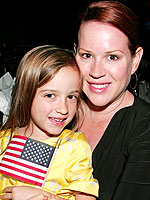 David Livingston/Getty
Playing a mom of teenagers on the hit show The Secret Life of the American Teenager has offered Molly Ringwald insight into what lies ahead. A soon-to-be mom-of-three, the 41-year-old actress tells Movieweb "it's kind of like looking into a crystal ball into the future." The age difference might make things "interesting," but Molly says that by being a real life mom she brings her maternal instincts to the role.
"I think that once you're a mother, you understand; not to say that people who aren't mothers can't play mothers," she explains. "I think I played mothers before I was actually a mother in my real life, but I think once you experience that, there are just certain things that you just know."
"There are certain things that you feel comfortable with, a way of touching your child's head or a way of like wiping dirt off their face. There's just a way that you have, I think, that you don't quite — It's not in your bones, I think, until you actually are a mother."
Molly feels the show offers a "pretty realistic" look at a modern day family. "I think so," she says. "I mean I think that every family is different. I don't think that there's any definitive way to portray a family. I think that this is the way that this family functions, but I think obviously it's different in other families." Their portrayal of Molly's current pregnancy was certainly realistic! Having her bump written into the show is what she says she preferred. "I did not want to go through a whole season of walking around with towels in front of me," she explains. "So, that was something that was discussed and they just decided to go with it."
"I also just thought that it was interesting considering the fact that my daughter was pregnant in the previous season, having her go through the whole thing again and having my grandchild be older than my new child is kind of funny too."
Molly is mom to Mathilda Ereni, 5 ½, with husband Panio Gianopolous; The couple expect boy-girl twins in early August.
Source: Movieweb