baby star: Bold Apparel For Baby and Eye-Catching Diaper Tote For Mom
There's no mistaking the look of baby star's products: from their tote bags to their line of baby clothing, the items are blanketed with bold-patterned graphics that are hard to miss — and hard not to love.

As mom to a 17-month-old son, it hasn't been easy finding baby clothes that aren't canvassed with cutesy slogans, designer logos or sports-themed messages splashed across them. So I was thrilled to come across baby star's one-piece snapsuits ($36) and boy pants ($20). With their smart-looking bold designs and solid construction (double-stitching, sturdy snaps), the clothes look good and are well made. Even better: The clothes are free of formaldehyde (a chemical used to keep fabric wrinkle-free and stain resistant), which makes me feel all the better about having my son Travis, who has sensitive, allergy-prone skin, wear them.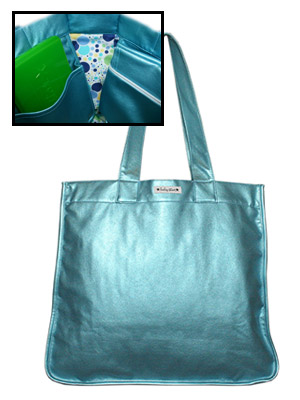 But Travis isn't the only one who gets to be the star of the show, I've been carrying baby star's Rock the Tote Diaper Bag ($90), an eye-catching carry-all made with a BPA-free laminate. The tote's roomy interior includes a zipper pocket and two open pockets, allowing you to fill it with everything from your cell phone, diaper wipes case, a sippy cup, snacks, to toys — basically all the things that Travis (and his mom) can't leave home without.
— Julia
CBB Deal: Save 30% with coupon code 20twinkle09 (expires 12/31/09).