Caught Caring: Katie Holmes and the Dizzy Feet Foundation
When rumors first circulated that Katie Holmes was in rehearsals for FOX's So You Think You Can Dance, many thought it was a hoax. As it turns out, the 30-year-old actress really can dance, and even better — her upcoming spin on the dance floor will benefit the Dizzy Feet Foundation. Co-founded by Katie herself, Dizzy Feet aims to support, improve and increase access to dance education.
Katie's performance will air at 9 p.m. July 23rd, as the show marks its 100th episode, in a tribute to Judy Garland. "I like to sing and dance, so this has been really fun," Katie tells SYTYCD host Cat Deeley. "I think it's important to let kids experience music and dancing and singing and the arts and also sports."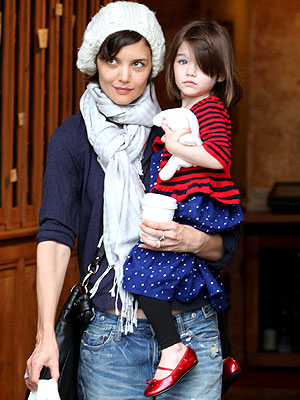 Fame
That much is evident whenever Katie is seen accompanying daughter Suri, 3, to and from gymnastics class or the ballet.
She went on to note,
"This is the next generation, and I think it's important to give them every opportunity to grow and discover what it is that they like."
In addition to Katie, Dizzy Feet was founded by former American Idol executive producer Nigel Lythgoe, director Adam Shankman and Dancing With the Stars judge Carrie Anne Inaba.
The organization has a threefold mission:
(1) to provide scholarships and grants to talented dancers, choreographers and teachers working at or through accredited dance studios; (2) to establish national standards for dance education and an accreditation program for dance; and (3) to develop, provide and support dance education programs for disadvantaged children by working through and with community organizations.
Suri is Katie's daughter with husband Tom Cruise. For more information on the Dizzy Feet Foundation or to find out how you can contribute, click here.
— Missy