Campbell Brown Savors Special Moments With Sons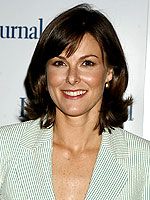 Amy Sussman/Getty
Hosting the nightly news program Campbell Brown on CNN means that, more often than not, Campbell Brown isn't at home to put sons Eli James, 18 months and Asher Liam, 3 months, to bed — but don't feel too sorry for her! The 41-year-old television journalist tells Babble that her schedule is a mixed blessing. "For those who have tried to put a toddler down…Sometimes I look at my husband and go, "Oh, here, you put him down for his nap," she admits. "Yes, on the one hand you go, 'Oh…'  But don't idealize how wonderful it is to put your kids to bed. Sometimes they will fight you tooth and nail."
Campbell instead logs the bulk of her time with the boys during the morning. "I have a really supportive work environment," she notes. "My morning conference call is from home. And God bless technology for allowing me to be online and checking in at home and still be with the kids."
"The mornings are my time, having breakfast and playing and watching Sesame Street; you savor those moments. You really try to carve those out and protect them."
To say the least! Later in the interview, Campbell reveals that she even enjoys waking up at 4:15 a.m. with Asher. "That is my most precious twenty minutes, because it's just our moment together," she explains before adding,
"It's quiet. No one else is awake. And it is heaven. The older one does get jealous, so it's really the only time that I can give complete and total attention to Asher. And I just treasure that time, at four a.m. Those little moments are what's wonderful about motherhood."
Eli also has a special bond with mom, which is evident when Campbell recalls one recent meltdown after she denied him a snack. "He was throwing himself on the floor, screaming, yelling, and I was just — ugh! — at my wit's end," Campbell concedes. "I finally plopped down on the couch and took a deep breath." When she least expected it, however, Eli came through. "He just stopped crying, came over, put his arms around me, and gave me a kiss on the cheek and a big hug — for no reason, after pitching this horrible, horrible fit. And I thought, God this is heaven."
Click below to read Campbell's thoughts on raising two under two.
Not sweating the small stuff is something Campbell says she wishes she'd learned at the outset. "Have a sense of humor," she advises, "because no matter how organized you are, no matter how much you plan, no matter how much you think you've got it all figured out, it's never going to go like you want it to go all the time."
Motherhood has transformed her approach to journalism, as well, with Campbell noting that along the way it became less important to find the answers and more important to find common ground. It also forever altered her worldview. "You think of everything in terms of your children," she explains.
"The world seems more fragile to me. I worry much more because I'm so protective. You have that mama-bear instinct, so the world seems scarier than it did when I was single, because I have these two people who are totally dependent on me."
Someday, Campbell says she hopes Eli and Asher will be dependent on each other. Although "it can be tough when you've got two in cribs, two in diapers, two under two," Campbell is banking on a "payoff" someday, when her sons become best friends. That friendship has gotten off to a rocky start! Eli had "about two weeks of acting out, where he couldn't figure out why he didn't have as much attention from mommy as he used to," Campbell shares, "but he's settled into it."
"He doesn't quite know who or what Asher is. It's just suddenly there's this blob hanging around with us who wasn't there before. But he's really sweet with him. He kisses him and holds his hand and points at him and says, 'Asher.'"
The addition of Asher also meant a change in parenting styles for Campbell and husband Daniel Senor, who went "from a zone defense to man-on-man," she jokes. "There's never a moment when you can say, 'Okay, we can relax.'" When those rare moments do arise, they are savored by the couple! "Two weekends ago, my sons were both napping at the same time, which almost never happens," Campbell shares. "And my husband and I looked at each other like, 'Ah! We've got twenty minutes to ourselves!'"
The two tackle parenting together, as a team, despite their vasty different backgrounds because Campbell feels it's "the only way you can make it work."
That said, balancing her career, a marriage and two young sons has turned Campbell into a multi-tasker extraordinaire. "I think a mother's brain works differently," she says. "We can be refilling the sippy cup while doing our conference call at the same time." Learning to compartmentalize is a survival technique, she says, and moms everyday do it with varying degrees of success.
"You learn little tricks, and sometimes it feels like you're managing perfectly and sometimes it all falls apart. But at the end of the day, you wouldn't give up either. Nothing's more important than your family, and when you have a job like I have, a job that I love that's so rewarding, you do whatever you can to make it all work."
Source: Babble
— Missy