Westlife's Shane Filan and Wife Expecting Third Child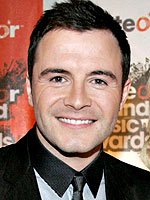 Flynet
It will soon be a party of five for Shane Filan and wife Gillian. The couple announced to friends and family over the weekend that they are expecting their third child, and the 30-year-old Westlife singer made the news official with a statement posted to the band's website on Tuesday. "I know a lot of you have already heard the rumours, but I wanted to confirm to you myself that Gillian and I are expecting another baby," he writes.
"We've been keeping it a complete secret from everyone for a while, and made the announcement at my 30th birthday party on Saturday. The baby's due early next year and we're completely over the moon about it. The thought of becoming a dad for the third time is just amazing!"
Baby-on-the-way will join big sister Nicole Rose, turning 4 next month, and big brother Patrick Michael, 9 ½ months, at home.
Source: Westlife.com
Thanks to CBB readers Sylvana and Felicitas.
— Missy