The Baby Bunch: A Floral Alternative to Diaper Cakes
If you're looking for a high-impact baby shower gift that's beautiful yet practical, the Baby Bunch has just what you need. They have artfully created gift sets such as the Baby Bunch Bouquets by carefully rolling up a set of newborn clothing to look like clusters of flowers, and adorning them with green leaves. The medium bouquets ($60) include a bib, t-shirt, hat, short-sleeve bodysuit and two pairs of socks while the large bouquets ($70) also include an extra hat, pair of mitts, two burp cloths and romper suit. Choose from pink, blue or yellow. The bouquets are beautiful to look at and could easily double as centerpieces at a shower.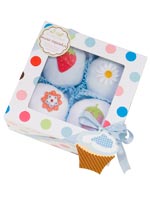 Equally high on the cuteness scale are the Cupcakes. The four-pack ($35) is made up of four short-sleeve bodysuits, each folded into a ball and tucked inside a cupcake wrapper with a fruit or flower felt decoration on top.  There are also boxes if six ($50) and two ($20) bodysuits. Like the bouquets, the cupcakes are also available in pink, blue or yellow. The cupcakes look so appealing in their festive bakery boxes that my 7-year-old initially asked if she could eat one!
Less expensive  — but equally adorable — is the Lollipop Romper ($10). The red and white striped short-sleeve bodysuit is rolled up like a big peppermint lollipop, wrapped up in cellophane and tied with a ribbon. It could be a great gift topper or stocking stuffer at Christmas.  All of the clothing is made of 100% cotton and is super soft.
— Joanne
CBB Deal: Get free shipping on orders over $40 with coupon code CBBFS (expires 7/31/09).