Steal That Style: Sweet Sundresses for Summer
We're full swing into summer and the sundresses are plentiful! Open almost any toddler girl's closet this season and it is likely that hanging among the racks of clothes will be one or two — or more! — adorable sundresses perfect for both a day of play or a summer celebration.
While sundresses are far from a new fashion trend, as the cute frocks have been a staple for little girls for generations; this year the style is all about floral patterns. From sweet pastels to bright and bold roses to tropical blooms, who better to show off the versatility of a simple sundress than some of our favorite celebrity toddlers!
Off to the Kentucky Derby with mom Brooke Shields and dad Chris Henchy, Rowan Francis was more than happy to show off her Lily Pulitzer's Maren Halter Dress ($88), made from a soft blend of colors that was offset by her younger sister Grier Hammond's bold Lily Pulitzer's Mini Harmon Ruffle Dress ($118). Visiting the Farmer's Market with mom Isla Fisher, little Olive Baron Cohen looked extra sweet with her ginger locks in pigtails and her Twelfth Street Baby sundress (the style is sold out; for a similar look try Twelfth Street Baby's Baby Flutter Sleeve Hankie Dress in Fluorescent Mel ($90). Out with her mom Geri Halliwell, Bluebell Madonna proves just how versatile a sundress can be. When it's not quite warm enough for just the dress, just add a light cardigan and a pair of mary janes and socks to keep baby girl warm! As for Suri Cruise, the warm sun has her without a care in the world. Opting for the laid-back look while out with her dad Tom Cruise, this dress-lover kept her babyGap's Flower Tiered Dress in Frosted Berry ($20) casual with her blowing hair and bare feet!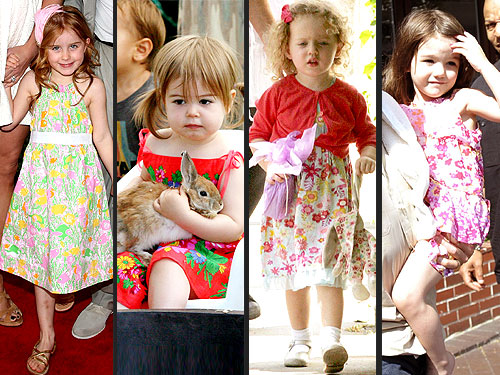 Jason Kempin/Wireimage; Limelight; Bauer-Griffin; Gene Young/Splash News Online
Steal That Style: Sweet Sundresses for Summer with the frocks below!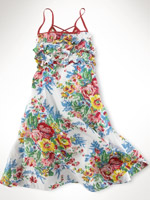 Ralph Lauren's Toddler's & Little Girl's Dress
Breaking Bank: Known for his traditional, yet classic styles, Ralph Lauren does not disappoint with the Ralph Lauren's Toddler's & Little Girl's Dress ($42). While the look can certainly be toned down with simple shoes for a casual feel, the flowery dress would be perfect for a more formal celebration. Graduation? Rehearsal dinner for an upcoming wedding? Fancy family night out on the town? This dress fits the bill for it all.
While it boasts a slightly higher price tag than the other options, we love the Rose Garden Dress at Chasing Fireflies ($108). The bright, fun colors gives the dress a great tropical feel and your little girl will enjoy the light breathable fabric that allows her to twirl until her little heart is content. No wonder expectant mama Heidi Klum is such a fan!
We also like Pink Chicken's Coco Dress ($68). (Check back on Thursday for our review of the line!)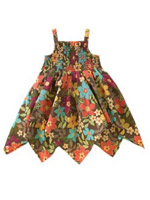 Gymboree's Tropical Flowers Smocked Dress
Not Pinching Pennies: With a chocolate background and muted floral tones, Gymboree's Tropical Flowers Smocked Dress ($26) is definitely a favorite! Made from 100% cotton batiste, the sundress comes with a matching diaper cover (for girls up to size 3T) and sports a smocked bodice. We love the unusual cut of the hem!
When Madonna's newest addition, daughter Mercy James, stepped out last week in babyGap's Printed Maxi Dress ($30), her dress was noticed almost as much as her sweet smile! We also have our eye on babyGap's Smocked Floral Dress ($20), an adorable 100% cotton dress that offers a girly ruffle trim on the smocked neckline. The company suggests adding flat sandals and a cardigan to top off a great summer look and we completely agree!
Also be sure to check out Janie and Jack's Ruffle Floral Dress (on sale for $19), a flowery lime sundress that not only comes with matching bloomers and a cute ruffle, but also has buttons up the back to make dressing baby girl that much easier.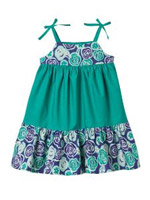 Genuine Kids from OshKosh Piece Print Dress
Bargain Buying: For some parents, dishing out the dough for a sundress that will find its fate as their curious toddler explores the great outdoors is easier said than done. However, searching for a bargain does not mean you have to bypass the summer's coolest looks. Take, for example, Genuine Kids from OshKosh's Pieced Print Dress in Pastel ($13). At an affordable price, this cotton sundress will let your little girl run with the best of them without you stressing over those stains she is bound to pick up along the way!
Old Navy touts that their Floral Print Jersey Sundress in Pink Print ($15) is a great mix of equal parts stylish and sweet and we couldn't have said it better! Unlike the other featured dresses, this style has traded in the spaghetti straps for a loose elastic band at the neckline which joins the two shoulder straps. Big bold flowers make the dress, which is currently available in two color options: a pink, red, orange print or a green, blue, beige print.
Still not happy with these price tags? Take a look at Faded Glory's Baby Girls' Floral Dress ($5).
— Anya