Caroline Rhea Says Ava's 'An Excellent Audience'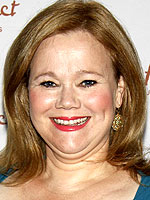 Joseph Marzullo/WENN
As comedians who have both done their fair share of stand-up, Caroline Rhea and boyfriend Costaki Economopoulos are no strangers to a tough crowd. Fortunately, the two find respite in their 8-month old daughter Ava! "She's bound to laugh at everything we say," Caroline tells OK!. "She's an excellent audience."
That said, baby girl's constant willingness to lend a smile — to anyone and everyone! — leaves a feeling of false hope, Costaki notes.
"I feel so bad because people go, 'Oh my God, she smiled at me.' I go, 'She smiles at everybody.'"
Despite her journey into motherhood a few years later than the norm, the 45-year-old actress couldn't be happier with the path her life has taken. "I love it," she says of being a mother. "It's my favorite thing I've ever done." In fact, the addition of the "sweetest, loveliest" baby girl, has opened Caroline's eyes to a whole new world — one that bursts with color. "I guess I feel like somebody flipped a switch and the whole world is in Technicolor now," she says.
"I'm very sappy about it, but I adore her. I'm so into momminess."
Watching the father-daughter bond between Costaki and Ava has been equally rewarding for Caroline. However, the proud mama happily jokes baby girl's love of all things daddy has her feeling a bit left out! "I have the tiniest bit of resentment," she explains. "His material is doing better with her than mine is. He goes for the laugh and then he repeats it over and over again." As for Caroline, she tends to be distracted by Ava's adorable attributes.
"I can't stop squeezing her thighs. I can't."
Source: OK!
— Anya