Tiger Woods Shares Sam's Caddy Techniques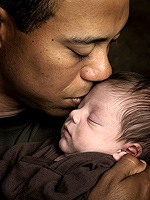 Dom Furore/Woods Family via Getty Images
During a recent Good Morning America appearance, Tiger Woods was all smiles when it came time to talk family! Once again calling his eight month hiatus from golf after undergoing knee surgery a true "blessing in disguise," the 33-year-old reveals that the recuperation was family time well spent. "To actually see Sam [Alexis, 2,] grow up, to actually be a part of her development and watch her become more bilingual, it's just been an absolute treat," he says.
"She speaks more Swedish than English so it's actually pretty interesting … my vocabulary of Swedish has gone way up!"
While Sam spends time with her mama Elin learning the model's native tongue, the father-daughter duo are creating their own memories on the golf course. That said, the doting dad admits he is determined to not push his career on his children; For Sam, it's all fun and games! "She likes going out with me in the evenings when I go out and play a few holes," he says.
"I'll hit some putts, if I make the putt she'll give a fist pump [and] she'll go, 'Yes!' Then she'll immediately run over, grab the ball out of the hole, and then throw it in the bunker. That's her deal!"
Once things on the green lose their interest, Sam is off to her next adventure. "Then, if she gets bored she'll go pick flowers," Tiger laughs.
Tiger and Elin are also parents to 5-month-old son Charlie Axel.
Source: Good Morning America
— Anya