It's a Boy on the Way for Cole Hamels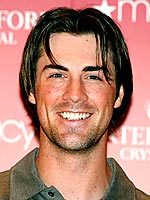 Tom Walck/PR Photos
Former World Series MVP Cole Hamels and his wife, Survivor alum Heidi Strobel, are seeing blue! The Philadelphia Phillies star shared that he and his wife recently learned that the baby that they are expecting this fall is a little boy. "We're excited," said Cole, 25. "Hopefully we'll be headed for the World Series when it happens."
The couple's original plans were to travel to Ethiopia in December to adopt a little girl, but the pregnancy has delayed that for approximately six to nine months.
"We still plan on adopting. [The pregnancy] is something we were planning on doing anyway. We're going to adopt a girl, and it will be great for her to grow up with a brother. They'll be like twins."
Cole and Heidi, who were married in 2006, announced their pregnancy earlier this month.
Source: The Philadelphia Inquirer
–- Angela