Happy Birthday Sunday Rose Kidman Urban!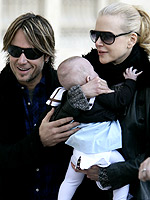 KCS Presse/Splash News Online
Happy Birthday Sunday Rose Kidman Urban! Keith Urban and Nicole Kidman's little girl turns 1 year old today. Though we haven't seen much of Sunday since her birth one year ago, it's obvious her famous parents are enamored with their child. Calling her "easy and lovely," Nicole says her daughter "sings" beautifully — and may grow up with both Southern and Australian accents!
Sibling to teens Isabella Jane and Connor Antony, Sunday is adored as a baby sister.  And she's so cute, to boot! We look forward to seeing this little Southern girl — named for the "most joyous day of all" — grow up before our eyes.