Busy Philipps and Her Bilingual Babe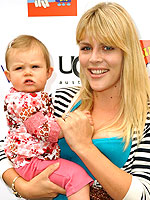 Jordan Strauss/WireImage
Busy Philipps has an early talker on her hands, and not only does daughter Birdie Leigh, 10 months, speak — she does so in two languages! "She says 'mama' and 'dada' and 'agua,'" Busy tells the July 6 issue of Us Weekly, adding,
"I want her to be bilingual. They say it's good for their cognitive skills."
Busy, 29, can next be seen on the small screen in ABC's Cougar Town, debuting this fall. Birdie — whose "new thing is pointing," according to the proud first-time mom — is Busy's daughter with husband Marc Silverstein.
Source: Us Weekly
— Missy