Jillian Reynolds Expecting Baby No. 2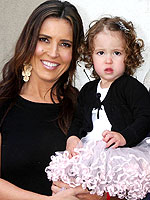 WENN
A good day, indeed! Jillian Barberie Reynolds, co-host of Good Day L.A., revealed on this mornings' show that she is expecting her second child with husband Grant Reynolds. To hear the 42-year-old television personality tell it, however, her bump was the worst kept secret in town!
"You know it's not even a question anymore, [when] everyone is like, 'You're eating Doritos at 7 a.m., drinking 7-up and you've got a gut.' Gee I wonder why? Yes, I'm pregnant. Helllloooo!"
The FOX NFL Sunday weatherwoman went on to suggest that baby-on-the-way was a surprise. "Jay Mohr said to me, 'What, you get a boob job?' and I said 'Why would I get a boob job, I already have big boobs?' and he said 'Umm…,'" Jillian recalled. "And I was driving home and said 'Oh my God, I have a pregnancy test at home, I'm going to give it a try.'"
"I peed on the stick and went back 10 minutes later and it said 'Pregnant,' so I stuffed it in an early Father's Day card for Grant. Grant and I, our sex life, still goin' strong!"
The announcement comes as the couple celebrate the second birthday of their daughter Ruby Raven.
Source: Fox11 News
Thanks to CBB reader Deanna.
— Missy