Julia Ormond Laments Cartoon Violence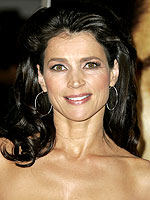 INF
In the horror film Surveillance, Julia Ormond admittedly pushes the envelope — both in terms of subject matter, as well as in terms of her performance, a stark departure from the roles which made her famous. The film puts a humorous spin on violence; It is an approach bound to raise eyebrows, but one which Julia says is actually beneficial, for it makes viewers take stock of what they're witnessing. "At the end of the day, when you step back, there is an extraordinary amount of violence in our consciousness that we just ignore," the 44-year-old actress says.
"Look at kids' movies. I have a five-year-old daughter and I look at a lot of them with her. Check out the number of cartoon animals that use force to get their point across rather than words. It's penguins slapping each other, a cat throwing a mouse across the room — after a while you wonder how much of an impact it has on children."
Still, the violence depicted on television and in movies is a far cry from the violence which befalls millions of children on a daily basis. Regarding her efforts with the United Nations to end human trafficking, Julia notes, "I've seen the results of some pretty horrific real-life violence."
"And you do all you can, but you have to walk away from kids who are suffering. I'd take them all home with me if I could."
Julia has been married to husband Jon Rubin since 1999; The couple have one child, 5-year-old Sophie.
Source: Parade
— Missy