New Mom Candace Parker Returns to the Court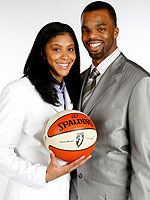 David Sherman/NBAE/Getty
Candace Parker is headed back to the basketball court tonight after welcoming daughter Lailaa Nicole seven weeks ago. The LA Sparks' forward recently rejoined her team for practices and admits that "it was great" to be playing again. "I was just really excited to practice so I treated it like a game almost because you miss it. I've been away from basketball for nine months, 10 months really, so it's great to be back on the court."
When she's not preparing for her comeback, Candace has been soaking up time with her little girl.
"It's been the best thing ever. My husband [NBA star Shelden Williams] and I really enjoy watching our daughter grow. It's amazing how much they change in a short amount of time. She makes me smile every day."
Making the end of her maternity leave easier is fellow teammate Lisa Leslie, who Candace has been going to for advice. Lisa, who is mom to two-year-old Lauren Jolie, knows what it is like to trying to get back on the court and juggle both basketball and motherhood. "We talk all the time about everything, the baby, nursing, nanny, travel, everything," shared Lisa. "I feel honored to be a mentor to Candace. She has a great network of people around her like I did and that's what helps you."
Candace and the Sparks face off against the Phoenix Mercury this evening at 6:30.
Source: Associated Press
– Angela