Denise Richards Says Daughters Think 'Boys are Yucky'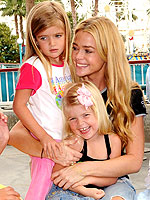 Albert Michael/Startraks
When it comes to looking out for daughters Sam, 5, and Lola Rose, 4, Denise Richards says that everything she needed to know, she learned from her dad; Irv Richards had a few tricks up his sleeve, however! "When we were teenagers, he used to tap our phones," she quips to MomLogic. "He worked for the phone company, so he had all the equipment."
While it's unlikely that Denise will go that far, there isn't much she won't do to make sure that the girls are okay. "As a parent now, it's harder to keep tabs on our children, but I will be vigilant," she promises. From the sound of things — for now — she has little to worry about!
"They pretty much think boys are yucky."
Although Denise continues to come under fire for allowing the girls to appear on her reality show Denise Richards: It's Complicated, the criticism is unfounded, she says. "Everyone is so judgmental when it comes to raising kids: if you breastfeed or not, feed them only organic foods," she laments. "The bottom line is, I'm not exploiting my children." Noting that Lola and Sam are only on screen "for about a minute here and there," Denise points out that "the show isn't about them." Instead, their participation is a good thing, she adds.
"I get to incorporate them into the show — which means I can take them to school as part of my job. How many single working moms can say that?"
Sam and Lola are Denise's children with ex-husband Charlie Sheen.
Denise Richards: It's Complicated airs Sundays at 10:30 p.m. on E!
Source: MomLogic
— Missy