Darryl Worley on His Talkative Little Girl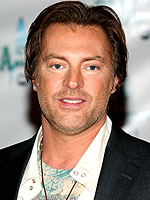 Bryan Bedder/Getty
Singing may be Darryl Worley's passion but his greatest joy is his 14-month-old daughter! Savannah Gail is described as "very advanced, a very smart baby girl. Just beautiful, red hair, blue eyes," by her proud papa.
The country singer is treasuring each new stage in Savannah's life and is enjoying it when she has him on the floor laughing with her personality and vocabulary! "She says everything. You've gotta be careful because she doesn't have a filter. She will just blurt it out," says Darryl, adding that  "she's got about 400 [facial] expressions at this point. She'll raise her eyebrows up and it's like, 'What're you gonna do?' It's just hilarious."
Now that Darryl is seeing more and more of Savannah's personality develop, it wouldn't shock him if she entered his field when she's older. "She seems to me like she might be an entertainer. I don't know what kind. But she just has the coolest personality. Outgoing, loves people. She was at Waffle House with us this mornin' and she greeted everybody who came in the door," he laughs. While he enjoys his boisterous baby, it's Savannah's soft side that really gets to Darryl.
"When she gets sleepy, she's very loving. Until that, she's very independent. But she gets this real warm fuzzy lovin' mood and she gets real generous with her little sugar and kisses, and it'll just about make your heart melt."
Fatherhood has taught Darryl a lot in a short time — including how he could have made life easier for his own dad! "I wish that I had … made a little bit more out of [Father's Day] when I was growin' up," he notes. "That was a whole different generation. My dad's best Father's Day gift ever would've been if we'd cleaned out the gutters or something. It's just true. That's one more thing that he wouldn't have to do." No matter what, Darryl knows that he has a "good dad" and is happy that "we're closer than we've ever been before."
Savannah is Darryl and his wife Kimberly's first child.
Source: Country Weekly
— Angela