Russell Simmons: Kimora and I Are Best Friends For Our Girls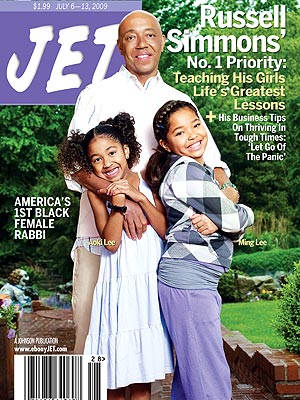 Courtesy JET
Where some Hollywood stars may shy away from their celebrity status, Russell Simmons is all about embracing the fame for a good cause.
"Celebrity is valuable," he tells JET in their July issue. "You can use it to benefit others."
While Russell stays true to his word with his dedication to countless charity projects, he is equally as determined to instill the same qualities in his daughters Ming Lee, 9, and Aoki Lee, 6 ½.
"I tell them that giving is part of your receiving process; life is about giving."
The girls witness a great example of giving when it comes to the relationship between their father and mom Kimora Lee Simmons.
When the couple divorced last year, Kimora was granted sole custody of the children with Russell entitled to visitation; however, the two have been known to make a few adjustments to the schedule.
"Obviously we have an arrangement, but Kimora is very gracious when it comes to the children," he shares. "Whenever there is something special, additional days that I want, she is very accommodating."
With Ming and Aoki living in Los Angeles with Kimora, the doting dad is thrilled when he has the chance to visit California and spend time with his girls — so much so, he laughs, that the trio often forgo their extracurricular activities, much to Kimora's chagrin!
"They have so many activities, I admit when I have them, we cancel activities and do special stuff. Kimora gets upset when we do that, but we try not to do that too often."
Now, full swing into summer, Russell reveals that the kids spend most of the weekends with him in New York. During that time, it is his youngest daughter Aoki who keeps the proud papa constantly on his toes! "[She] loves the stage," he says. "When she has a chance to make a speech, no matter where it is, she can't wait."
The same, however, does not ring true for Ming. "[She] is a little more shy, more of an artist. She is a painter; she is not too much into the stage, although she can perform," Russell notes.
"They are both in front of the camera so often, but it is work for her."
The girls recently became big sisters when Kimora and actor Djimon Hounsou welcomed their first child together, son Kenzo Lee. Despite finding new partners in life — Russell is dating model Noemie Lenoir, and hopes to one day expand his brood — the two remain devoted to their children. "Kimora and I talk about pretty much everything," he explains. "We are the best of friends. And that's very helpful to the girls." The friendship even extends to Djimon!
"We talk a little bit, of course. We talk about fatherhood and his experiences and everything. I hope to make a movie with him soon. He is a very calm, sweet person and a great stabilizing force in the way things have been between me and Kimora, so that's great."
Source: JET; July 6-13 issue
— Anya